Billie Eilish, the prodigious talent from Los Angeles, has taken the music world by storm with her unique blend of pop, electropop, and indie music. Born in December 2001, Billie Eilish Pirate Baird O'Connell, better known as Billie Eilish, has already achieved what many artists can only dream of.
Her music is a testament to her fearless approach to creativity and her ability to connect with listeners on a profound level. In this blog post, we will delve into Billie Eilish hot tracks, exploring her musical evolution and the impact she has had on the contemporary music landscape.
Chapter 1: Humble Beginnings
"Ocean Eyes" – A Breakout Debut
Billie Eilish's journey to stardom began with "Ocean Eyes," a song initially written for her dance class. Co-written with her brother Finneas O'Connell, this track showcased Billie's hauntingly beautiful vocals and introspective lyrics. It gained attention when uploaded to SoundCloud in 2015 and became a viral sensation.
"Bellyache" – Dark Themes with a Pop Twist
Following the success of "Ocean Eyes," Billie continued to captivate audiences with "Bellyache." This track combines catchy pop melodies with dark themes, exploring the mind of a remorseless protagonist. It demonstrated her ability to push musical boundaries while maintaining her signature style.
Chapter 2: Don't Smile at Me – A Debut EP to Remember
"idontwannabeyouanymore" – Vulnerability and Self-Reflection
Billie's debut EP, "Don't Smile at Me," featured the emotionally charged track "idontwannabeyouanymore." The song delves into themes of self-identity and the desire to escape one's reflection. It showcased her maturity as both a songwriter and performer.
"COPYCAT" – A Statement of Authenticity
"COPYCAT" is an unapologetic declaration of individuality and authenticity. With a confident swagger, Billie tackles the idea of imitation in the music industry, asserting her unique presence in the pop landscape.
Chapter 3: When We All Fall Asleep, Where Do We Go? – A Grammy-Winning Debut Album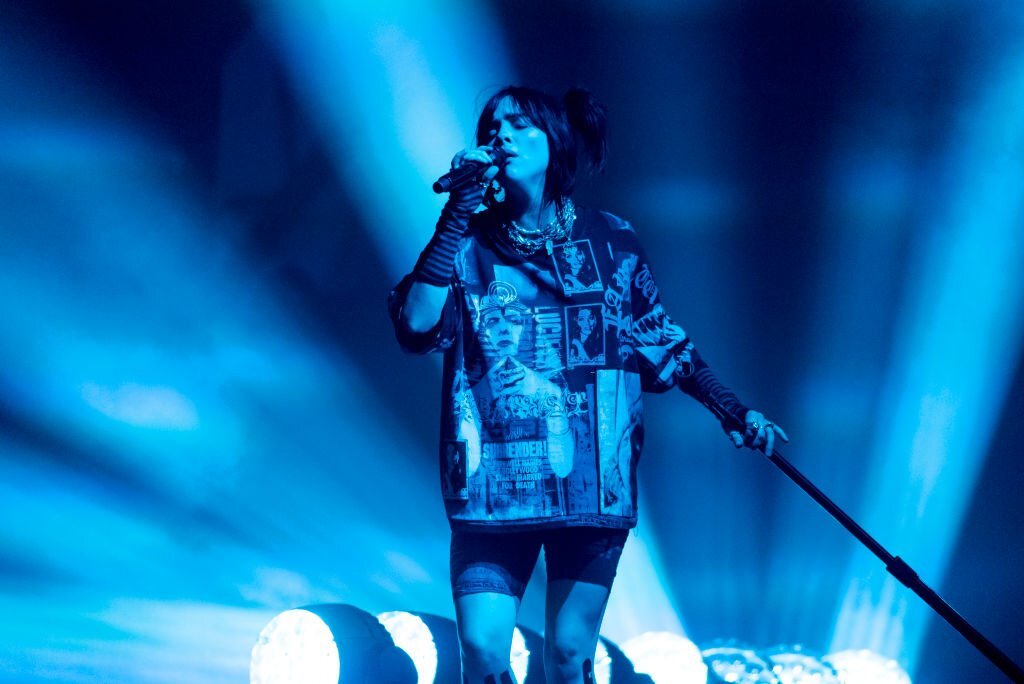 "Bad Guy" – Dominating the Charts
"Bad Guy" catapulted Billie Eilish to international superstardom. With its infectious beat and tongue-in-cheek lyrics, it quickly became one of her signature songs. The track's chart-topping success solidified her as a genre-defying force.
"When The Party's Over" – Vulnerability at Its Finest
She was known for her melancholic and minimalistic production, "When The Party's Over" which showcased Billie's ability to convey raw emotion through her music. The haunting visuals of the music video added to its impact.
"You Should See Me In A Crown" – Confidence and Empowerment
It is a confident and assertive song about female empowerment. The song has over 600 million streams on Spotify. The song's lyrics are about the narrator's refusal to be underestimated, and its music video features Eilish in various settings, representing the different ways she can be powerful.
"Bury A Friend" – A Cinematic Exploration of Anxiety
It is a cinematic and experimental song about anxiety and depression. The song has over 700 million streams on Spotify. The song's lyrics are about the narrator's fear of their dark thoughts, and its music video features Eilish in a variety of different dreamlike settings, representing the different ways that anxiety can manifest itself.
"Lovely" – A Heartfelt Collaboration
A collaboration with Khalid. It is a slow and atmospheric song about love and loss. The song has over 1 billion streams on Spotify. The song's lyrics are about the pain of heartbreak, and its music video features Eilish and Khalid in a dark and empty room, representing the emptiness they feel after losing love.
Chapter 4: Happier Than Ever – A Testament to Artistic Growth
"Happier Than Ever" – Maturing Lyrics and Sound
Billie's sophomore album, "Happier Than Ever," demonstrated significant growth as both an artist and a lyricist. The title track, in particular, reflects on the challenges of fame and the toll it can take on mental health. It's a powerful testament to Billie's authenticity and willingness to address personal struggles.
"Lost Cause" – An Anthem of Liberation
"Lost Cause" from the same album serves as an anthem of liberation from a toxic relationship. The track combines a catchy melody with empowering lyrics, showcasing Billie's ability to turn pain into empowerment.
Chapter 5: Collaborations and the Future
"Therefore I Am" – Confidence and Nonchalance
"Therefore I Am" showcases Billie's unapologetic confidence and nonchalance. With its playful lyrics and catchy beat, the song solidifies her status as a pop icon.
Collaborations That Shine
Billie Eilish's collaborations with artists like Khalid, Rosalía, and Justin Bieber have only added to her musical prowess. These tracks demonstrate her versatility and ability to blend her distinct style with various genres.
Conclusion- Billie Eilish Hot Tracks
In just a few short years, Billie Eilish has risen to become one of the world's most influential and celebrated artists. Her journey from a young SoundCloud sensation to a Grammy-winning, chart-topping superstar is remarkable.
Through her music, Billie Eilish has challenged conventional norms, embraced vulnerability, and given voice to a generation navigating the complexities of modern life. Billie Eilish is a true Gen Z icon. She is not afraid to be herself, and she is using her platform to make a difference in the world.
She is an inspiration to us all, and we can't wait to see what she does next. As we've explored Billie Eilish hot tracks, we've witnessed her musical evolution, from the hauntingly beautiful "Ocean Eyes" to the empowering "Lost Cause." Her artistry is marked by authenticity, vulnerability, and a fearlessness to be herself. With her future wide open, Billie Eilish continues to inspire and connect with audiences worldwide, leaving an indelible mark on the music.