In the world of entertainment, there are stars, and then there are icons. Jada Pinkett Smith belongs firmly to the latter category. Her name is synonymous with talent, resilience, and a commitment to making a difference.
In this blog, we'll delve into the life, career, and multifaceted contributions of Jada Pinkett Smith – an actress, producer, singer, and advocate who has left an indelible mark on Hollywood and society at large.
Early Life and Family Ties
Jada Koren Pinkett was born on September 18, 1971, in Baltimore, Maryland. Her upbringing was marked by a strong sense of family and the pursuit of excellence. Her mother, Adrienne Banfield-Norris, worked as a nurse, and her father, Robsol Pinkett Jr., was a successful businessman.
Jada's parents instilled in her the values of hard work and determination, qualities that would serve her well in her future endeavors. Jada Pinkett Smith's family ties run deep. In addition to her parents, she shares a close bond with her younger brother, Caleeb Pinkett, who is also involved in the entertainment industry as an actor and writer. Family has always been a cornerstone of Jada's life, and this foundation has undoubtedly contributed to her success.
Early Career and Breakthrough
Jada's journey in the entertainment world began at a young age. She attended the Baltimore School for the Arts, a prestigious institution known for nurturing talent. It was here that she honed her skills in acting, singing, and dancing, laying the groundwork for a career that would soon take flight.
Her early acting roles included appearances in television shows such as "True Colors" and "21 Jump Street." However, it was her breakout performance in the 1991 film "A Different World" that garnered widespread attention. Portraying the character Lena James, Jada captured the hearts of viewers with her charisma and acting prowess.
Notable Film Roles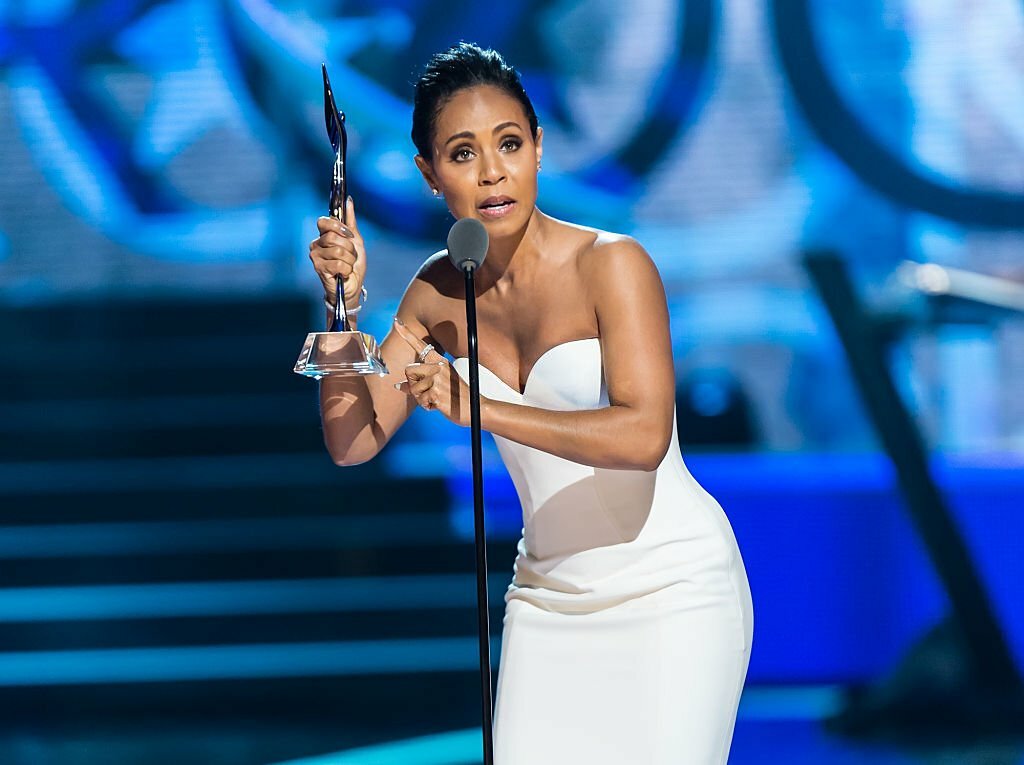 Jada Pinkett Smith's filmography is a testament to her versatility as an actress. Over the years, she has taken on a wide range of roles, each marked by her exceptional talent and commitment. Some of her most notable film roles include:
"Menace II Society" (1993):
In this gritty crime drama, Jada portrayed Ronnie, a young woman entangled in the complexities of her neighborhood. Her performance showcased her ability to delve into complex and multifaceted characters.
"Set It Off" (1996):
Jada's role as Cleopatra "Cleo" Sims in this action-packed crime thriller earned her critical acclaim. The film explored themes of friendship, desperation, and the pursuit of a better life, and Jada's portrayal of Cleo remains a standout in her career.
"The Nutty Professor" (1996):
Jada ventured into comedy with her role as Carla Purty in this beloved film starring Eddie Murphy. Her comedic timing and charm added depth to the movie's humor.
"Ali" (2001):
Jada Pinkett Smith took on the role of Sonji Roi, the first wife of legendary boxer Muhammad Ali, in this biographical drama. Her performance was a poignant depiction of the challenges faced by the woman behind the icon.
"The Matrix Reloaded" (2003) and "The Matrix Revolutions" (2003):
Jada joined the iconic "Matrix" franchise as Niobe, a skilled pilot and leader. Her presence in these groundbreaking films contributed to their success.
"Collateral" (2004):
Jada's role as Annie Farrell, a prosecutor caught up in a high-stakes chase, showcased her ability to shine in suspenseful and dramatic roles.
"Girls Trip" (2017):
In this raucous comedy, Jada Pinkett Smith played Lisa Cooper, one of four friends embarking on a wild adventure in New Orleans. The film was a massive hit and solidified Jada's status as a comedy powerhouse.
These are just a few highlights from Jada's extensive filmography, but they illustrate her range and willingness to tackle diverse genres and characters. Her ability to bring depth and authenticity to her roles has made her a respected figure in the film industry.
Television Success
While Jada Pinkett Smith is primarily known for her work in film, she has also made a significant impact on television. One of her most notable television ventures is her role in the medical drama series "Hawthorne," where she portrayed Christina Hawthorne, a dedicated chief nursing officer. The show allowed Jada to delve into complex healthcare issues and human drama, further showcasing her acting prowess.
Jada's television career has extended beyond acting. She, along with her husband Will Smith, served as an executive producer for the popular sitcom "All of Us." This venture allowed them to explore their creative talents behind the scenes, contributing to the show's success.
Music Career and Band
Jada Pinkett Smith is not limited to the screen; she is also a talented musician. In 2002, she formed the nu-metal band "Wicked Wisdom," taking on the role of lead vocalist. The band's music was characterized by its fusion of rock and metal elements, and Jada's powerful voice added a unique dimension to their sound.
While "Wicked Wisdom" faced some skepticism initially due to Jada's background as an actress, they gained recognition and respect within the music industry. Jada's commitment to her music was unwavering, and her band's performances showcased her undeniable talent as a singer.
A Family of Stars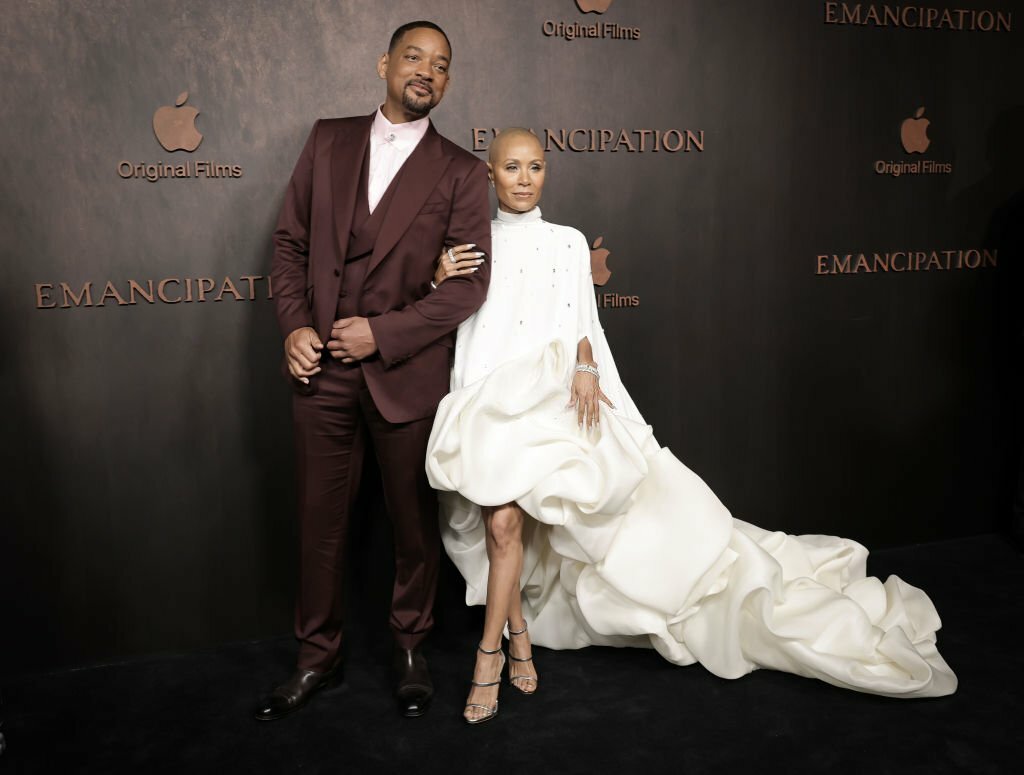 Jada Pinkett Smith is part of a family that is nothing short of extraordinary. Her marriage to actor Will Smith is one of Hollywood's most enduring and celebrated unions. Together, they have two children, Jaden and Willow Smith, both of whom have made significant strides in the entertainment world.
Jaden Smith, the elder of the two, has established himself as an actor and musician, following in the footsteps of his talented parents. His roles in films like "The Pursuit of Happyness" and "The Karate Kid" have showcased his acting abilities, while his music career has garnered critical acclaim.
Willow Smith, the younger sibling, is a multifaceted talent known for her music, acting, and advocacy work. Her debut single, "Whip My Hair," became an international hit when she was just ten years old. Willow's artistic exploration and commitment to social causes have made her a role model for many.
Advocacy and Philanthropy
Beyond her achievements in the entertainment industry, Jada Pinkett Smith is a passionate advocate for various causes. She has used her platform to address issues such as mental health, domestic violence, and human trafficking.
One of her most notable initiatives is the creation of "Red Table Talk," a Facebook Watch show where Jada, alongside her daughter Willow and mother Adrienne, engages in candid discussions about a wide range of topics. The show's authenticity and willingness to tackle challenging subjects have resonated with audiences, making it a powerful platform for education and advocacy.
Jada and Will Smith also established the Will and Jada Smith Family Foundation, a nonprofit organization focused on youth education and empowerment. Their philanthropic efforts reflect their commitment to creating positive change in the world.
Challenges and Resilience
Jada Pinkett Smith's life, like anyone's, has had its share of challenges. She has been candid about her struggles with mental health, sharing her experiences to reduce stigma and encourage open conversations.
Her vulnerability in discussing these issues has made her a source of inspiration for many facing similar battles. In her marriage to Will Smith, Jada has faced intense scrutiny from the media and the public. However, the couple's ability to weather storms and maintain their love and partnership remains a testament to their strength and commitment.
Legacy and Continued Impact
As Jada Pinkett Smith continues to make her mark in Hollywood and beyond, her legacy is already firmly established. She is a trailblazing force who has shattered glass ceilings, challenged norms, and used her voice to effect change. Her influence extends far beyond the screen, touching the lives of those inspired by her work and advocacy.
In the coming years, we can undoubtedly expect to see more groundbreaking projects and initiatives from Jada Pinkett Smith. Her commitment to authenticity, justice, and empowerment ensures that her impact on the world will endure for generations to come.
Conclusion
Jada Pinkett Smith's journey from a young girl in Baltimore to an iconic figure in Hollywood is a testament to talent, determination, and resilience. Her ability to excel in various fields, coupled with her advocacy for important causes, makes her a true inspiration. As an actress, musician, producer, and advocate, Jada Pinkett Smith continues to shape the entertainment industry and society, leaving an indelible mark on both.