A popular gemstone, opal is a spectacular beauty. It has a beautiful display of colors and kaleidoscopic patterns on its body. The birthstone of October and 14th anniversary gemstone, it is considered really powerful as it shows almost every color from the spectrum. They form throughout a long time, approximately 5 million years. When silica-rich rainwater seeps down in the Earth, the water gets evaporated from the rocks, and the minerals left behind form the gems.
The gemstone's prominent feature is its fire which is the intensity of colors displayed. The array of colors can be seen from every dimension. The exquisite beauty is unique to the extent that no two stones are alike. The gemstone can be mined from America, Ethiopia, and Brazil, but it comes from Australia. Ninety-five percent of the opal in the world is found in Australia. The gem is versatile and looks gorgeous in almost every kind of jewelry. It goes with almost all the metals and seems relatively modern and appealing in silver. Rananjay Exports has the best collection of gemstone jewelry. They have a stunning collection of Opal jewelry.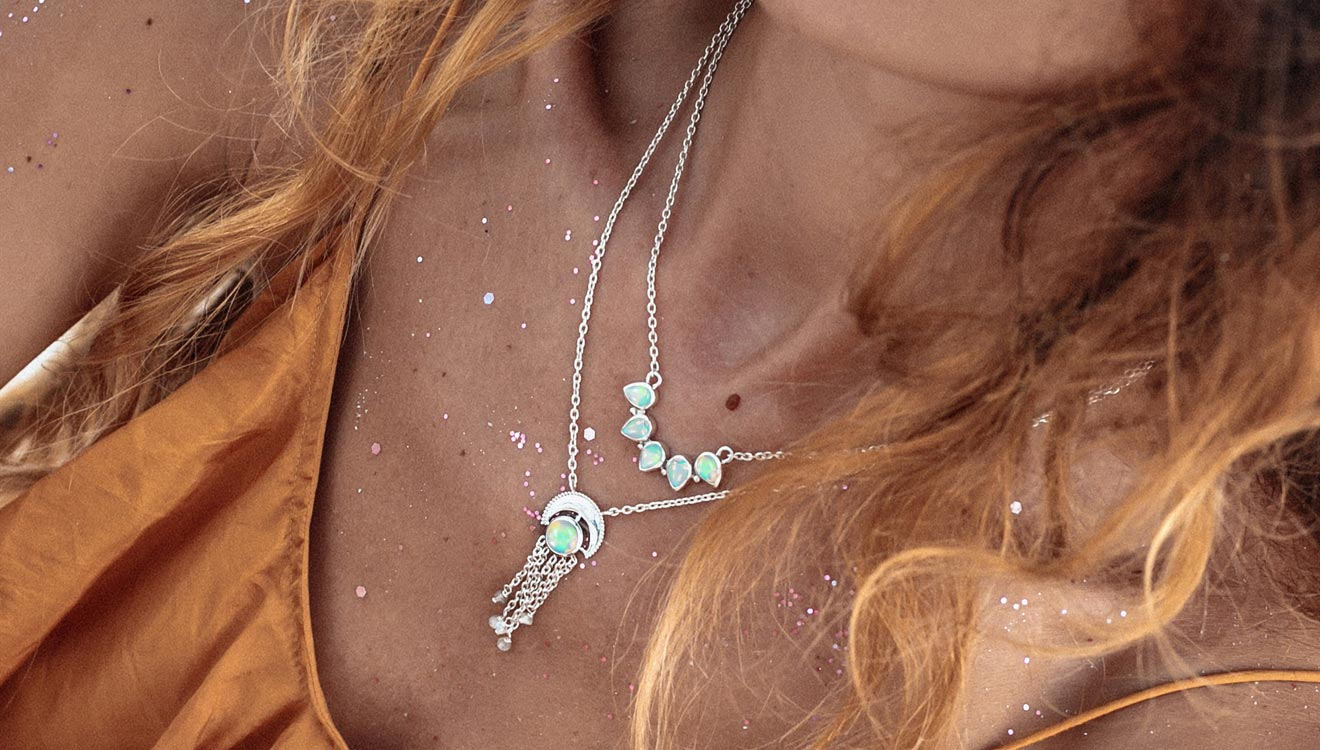 The Varieties In This Gemstone
Black or dark color opals: This variety is quite desirable. It has a black or a dark background against which the spectrum of colors is a breath taking beauty.
White or light color: This variety has a light color background. The color can be white, milky, or sometimes transparent.
Boulder opals: Can be found in so many colors. The host rock is also a part of it, and this makes the stone look more attractive.
Patterns in an Opal: Opal has beautiful designs of colors on its body. The patterns are unique for every stone. So no two opals are similar. 
Silver Gemstone Accessories
Opal looks gorgeous when crafted in silver. Opal earrings are an instant charmer and are versatile. The alluring beauty goes well with almost any color outfit. Opal necklace creates an eye-catching appeal making you stand out at a party. It looks glitter and adds the much-needed charm required for a party look.
Opal jewelry can be a good gift for your loved one as it is a symbol of love and passion. Being a stone of abundance, it brings happiness, good fortune, prosperity, and good health in the wearer's life. So surprise your loved one with a set of opal pendants and earrings. Opal studs are also getting popular as they can enhance your work look.
Benefits of Wearing This Opal Jewelry
The gemstone aids the wearer to have a calm and relaxed mindset. It is essential to find an emotional balance and opal helps in achieving that. It helps one connect with the higher conscious. The gemstone gives courage to the wearer to look deep inside. These self-assessments help one to know their mistakes better and then work upon them. It encourages you to be a better version of yourself.
The gemstone can fill the wearer with optimism. It also makes one fall in love with life. One can forget their past traumas when they start wearing opal accessories. It gives the wearer a hold on their feelings.
Significance of The Gemstone For Romans
Romans were amazed by the prismatic beauty of the gemstone and considered it a symbol of hope and fortune. Moreover, they considered it a precious stone with the qualities of all the classic gemstones.
The Gemstone Requires Special Care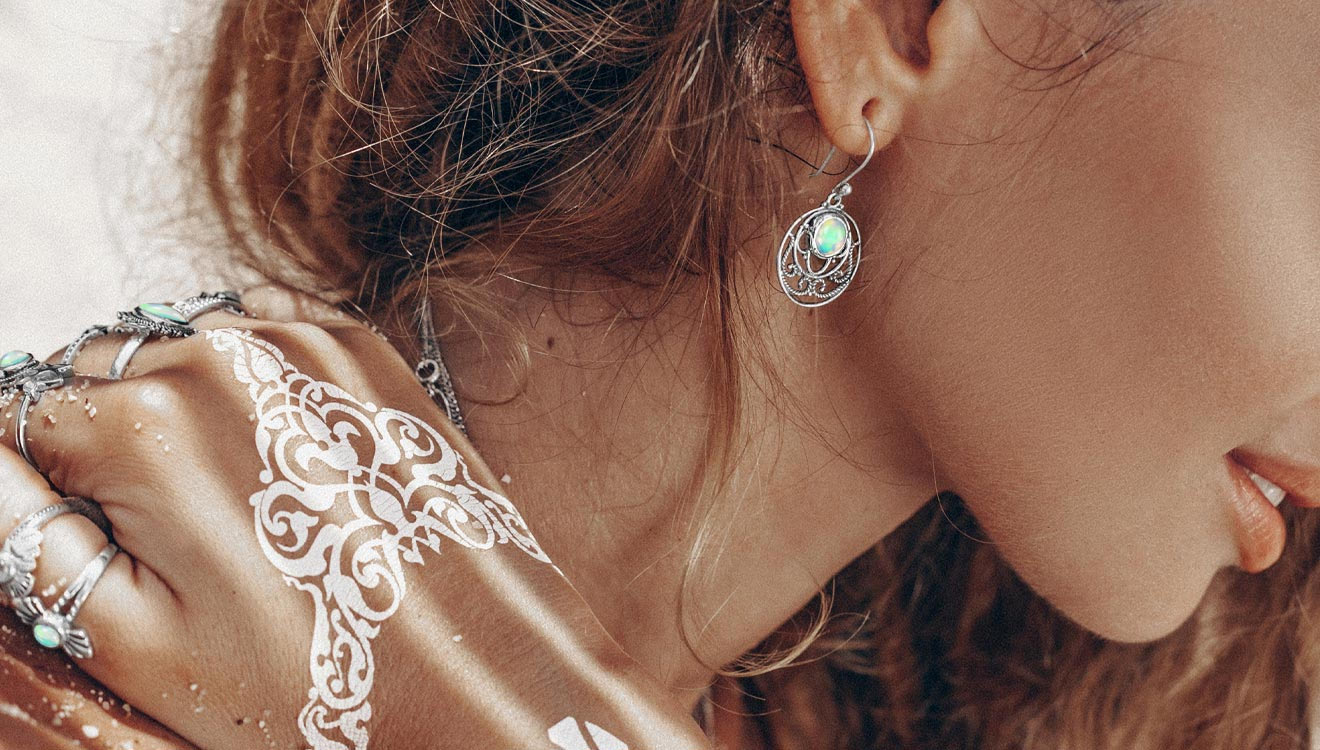 Opals cannot take a sudden change of temperature. Therefore, extreme heat or cold can cause cracks in the gem. This is why it is advised that one should not take out opal jewelry when they have to be in Sun for hours.
While storing a piece of opal jewelry, take cotton with a few drops of water and wrap the jewelry in it. This saves opal from dehydration.
Opal rings are generally chosen as an everyday accessory. They are versatile and have a unique look. Choose a bezel setting for the gemstone rings to better protect them from chipping.
Take the jewelry off while exercising to prevent any scratches. An opal bracelet is more prone to accidental blows and should be removed during strenuous activity or cleaning. To clean it, use mild soap and water instead of any harsh chemicals. You can use a soft brush to clean the jewelry piece. The gemstone should not come in contact with harsh chemicals.
Where to Buy Authentic Gemstone Jewelry?
To buy authentic gemstone jewelry, Rananjay Exports is the best site. They have an exclusive and in-demand wholesale gemstone jewelry collection designed in 925 sterling silver and rose gold vermeil. You can also get your jewelry customized from them. They have vintage and modern designs in opal accessories. You can also avail rewards and benefits when you shop from them.