Most of us take it for granted that we rely on cloud software, and the list of SaaS apps we use every day keeps growing. The average company subscribes to more than fourteen different cloud solutions. In large companies, the number is even higher.
But did you know that? Google Docs is integrated with DocSignPro so that you can incorporate the electronic signature app into a seamless digital document workflow.
You can sign documents and request counter signature directly from Google Docs or Gmail. Send your DocSignPro to a recipient or set up your document to trigger the subsequent sales or hiring process.
In this blog, we're going to describe the advantages of handling e-signature inside Google Docs and explain to you how simple it is to get started.
Simplify the electronic signature app with DocSignPro and Google Docs
Getting signatures on all of the contracts, tax returns, and approval forms that go through our desks every day takes a lot of time. A survey found that it takes almost half of companies a week or more to get a signature back after sending a contract.
The manual back and forth between the issuer and recipient of a document has many opportunities to go wrong – administrative errors, misfilings, damaged documents, and delays. E-signatures eliminate these risks by completely digitizing the paper-based workflow.
In a permanently networked, cloud-based, and mobility-oriented world, that makes sense. Today, e-signatures are fast, legally binding, affordable, fully traceable – and did we mention they are fast?
The electronic signature only takes a few seconds, and signature requests arrive immediately. You can get a new job or business contract signed in minutes instead of weeks.
Combine e-signing with a popular cloud document management tool like Google Docs, and the process becomes even faster, smoother, more intuitive, and painless.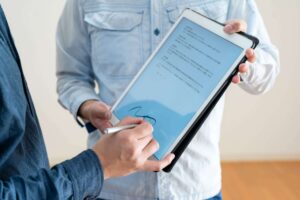 Why use DocSignPro with Google Docs?
An electronic signature app like DocSignPro can push the document workflow over the digital last mile and make it completely virtual. They speed up everything from sales to approvals, from onboarding new employees to filing tax returns. By using DocSignPro with Google Docs, you can:
Save time and resources and at the same time realize new sales faster;
Integrate functions and let all of your cloud solutions work together;
Quickly conclude legally binding contracts protected by US and European digital signature legislation.
How to enable a Google Docs signature
You can send a DocSignPro from Google Docs without leaving the application. That includes binding and enforceable legal documents – and you can do it in five minutes or less.
That's how it's done:
Go to the "Add-ons" menu in Google Docs and search for "DocSignPro free e signature app."

Select the plus (+) icon and say yes to install (don't worry, it's free)

As soon as the add-on is installed, click on the new menu item "DocSignPro" in the drop-down menu of the add-ons.

Click on and select "Sign with DocSignPro." When asked for permission, click Yes.

You can now use DocSignPro to sign Google Docs or ask for an electronic signature contract.

Please see our how-to blog post for more details.
How to insert a signature in Google Docs?
Select an existing Google Document in your Google Drive account or create a new document.
In the menu of the open document, click on "Add-ons" in the header
Click DocSignPro eSignature for Docs as the best e signature app.

Follow the drag and drop prompts to add your signature.

For a more detailed explanation, visit our "Google Docs how-to" video on YouTube.
Unify your cloud-based workflow with DocSignPro
Manual processes are discarded like old shoes in the course of the digital transformation. Keeping pace with this development and ensuring productivity is more important than ever. Despite the massive switch to digital processes, the slow, error-prone, paper-based document workflow has persisted.
This is why DocSignPro's Google Docs integration makes sense. It paves the way to complete digital transformation and opens up the lead between companies that use electronic signatures and those that don't.
Last Verdict
DocSignPro is based on the idea that E-signature online app should do the basics brilliantly. This includes working seamlessly with the cloud-based document management tools that most of us use daily.
Integrating platforms like Google Docs and Salesforce makes the electronic signature apps even more accessible, faster, and more user-friendly. That's why companies, from startups to large corporations, use us every day. They combine all the advantages of e-signing and the cloud – without breaking the bank.