Paper is one of the most environment-friendly packaging materials in the market. As experts, we are often asked for advice on different packaging paper supplies and which one should be used. Each packaging paper is different in composition and usage. For instance, corrugated paper rolls are a sturdier version of cardboard boxes, and both are used for packing various items.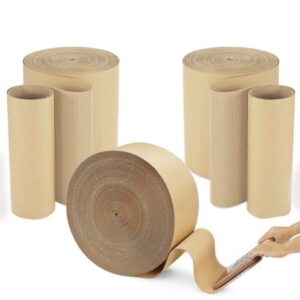 It is evident that packaging plays a huge role in how a product is perceived as a whole by the customer. The packaging industry, with the progression of technology, has gone through several evolutions. The paper bag alone has revolutionized the industry after going through so many changes.
There are so many choices available today, it becomes challenging to select the appropriate paper packaging for your product. So here are the different types of paper packaging options, with their use and importance- choose for yourself!
Corrugated paper rolls
At present, corrugated paper rolls is one of the most in-demand packaging material with over 50% of products being packed in corrugated cardboard boxes or paper rolls. These paper rolls are made up of kraft papers. It is a combination of two sheets (liners) pasted to an inner corrugated layer (fluting).
By their composition, corrugated rolls are very durable and robust to withstand any shock during transportation. Despite the layering, it is actually very lightweight, which saves so much transport costs. It can be printed on according to your company's need.
Paperboard cartons
Primarily used to carry lighter items, you have probably seen these box paperboard cartons in department stores. They do not have the wavy corrugated layer in the middle. But they are strong and durable as well. Paperboard is thicker than average paper. These cartons are mostly used to pack breakfast cereals, toys, shoes, art supplies, etc.
Paper bags
Paper bags are mainly used in retail or grocery stores for food items, bakeries, sweets, and even in some medicine shops. The structural firmness of paper bags has made them popular even among the high-end fashion market. Many luxury premium brands are using paper bags for their durability and eco-friendly nature.
In a global condition where the marine world is getting extinct due to pollution and toxic waste, paper bags earn customer support for the brand. They are super versatile and take significantly less time to disintegrate into simpler materials. After use, you can simply compost them in your backyard!
Kraft paper rolls
If you want heavy-duty, water-resistant paper packaging for your products, Kraft paper rolls are the best option. This type of packaging supply is ideal for packing fragile and odd-shaped items. Imitation kraft paper has a lower threshold but can be used for multiple packaging needs. There are variations of kraft paper that are waxed to protect against any leakage.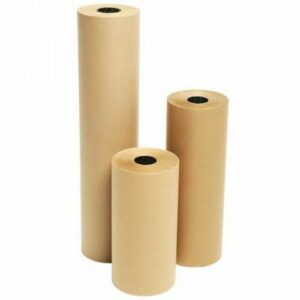 Another variation is Kraft union paper. It has a double-layered material with a cross-weave lining. This fiberglass bitumen helps to make the paper 100% waterproof and is best to export various items.
Cardboard boxes
Cardboard paper is another favorite packaging supply in the market. In the industrial sector, cardboard boxes are preferred more than wooden boxes for mass consumer products. Cardboard manufacturing produces 60% less carbon emissions as compared to other packaging materials. Double-wall cardboard boxes do not lose their durability even after recycling. Therefore apart from being a biodegradable product, it is a good quality economical form of packaging.
Newsprint paper packaging
Newspapers or newsprint sheets are a cost-effective way of packaging items like books, stationery items, etc. Many small businesses use newsprint papers as a wrapping or as a void filler. However, being experts in the industry, we won't recommend you to pack your fragile products in newsprint papers as it can be very risky. We will recommend using newspaper print sheets as void fillers. Scrunch up the paper and put them gently against your fragile items. They are a great solution to prevent your goods from damaging during house moving.
Paper packaging is a durable, environment-friendly solution. They keep your items fresh and protected from any dents or damages during transit. At Well pack Europe, all their paper packing materials are made from environment-friendly products and are 100% recyclable. They also have a varied range of sizes and thicknesses available in stock.