The different people may have a different definition of a dream house. Most people who have a good budget want to purchase a luxurious house. But nowadays home sellers are deceiving people by listing their spacious house as a luxurious house. There are various important things and features that are required to name property as 'luxurious house.'
The interiors, facilities, and amenities in the luxurious house should be top-notch. If these features of a luxurious house look like the standard house, then why should pay more. If you are looking for a luxurious house, then it is recommended that you should look for the exclusive features that make the property look luxurious.
You should not get deceived by marketing ads. The luxurious homes are specially designed to meet your needs and demands. For instance, the Medallion Mohali 4Bhk apartments are luxurious and available with opulence amenities. This property is specially designed with attractive features and lavish facilities. In addition to the lavish facilities of this modern architecture, you can enjoy the spacious indoors. Here, in this write-up, I am going to describe the important features that you should look for in a luxury home.
1. Home Decoration
In lavish homes, you should pay attention to the home décor. Wisely designed home interiors of luxurious homes are usually inspired by the modern décor style and famous architecture. The different interior décor styles will make your luxurious homes look different. In addition to this, you should pay attention to the archways, crown moldings, rounded corners, and art books that all collectively make this house look luxurious.
2. Security And Safety
The safety and security features separate the luxurious house from the normal ones. Almost all luxurious apartments offer in-built security features. The safety and security features in luxurious homes are a must to prevent cases of theft and any mishappening. The luxurious apartments have fire alarms, CCTV cameras, smart locks, safety from break-ins. The safety features in the luxurious house secure the home from the unwanted attention of thieves and burglars.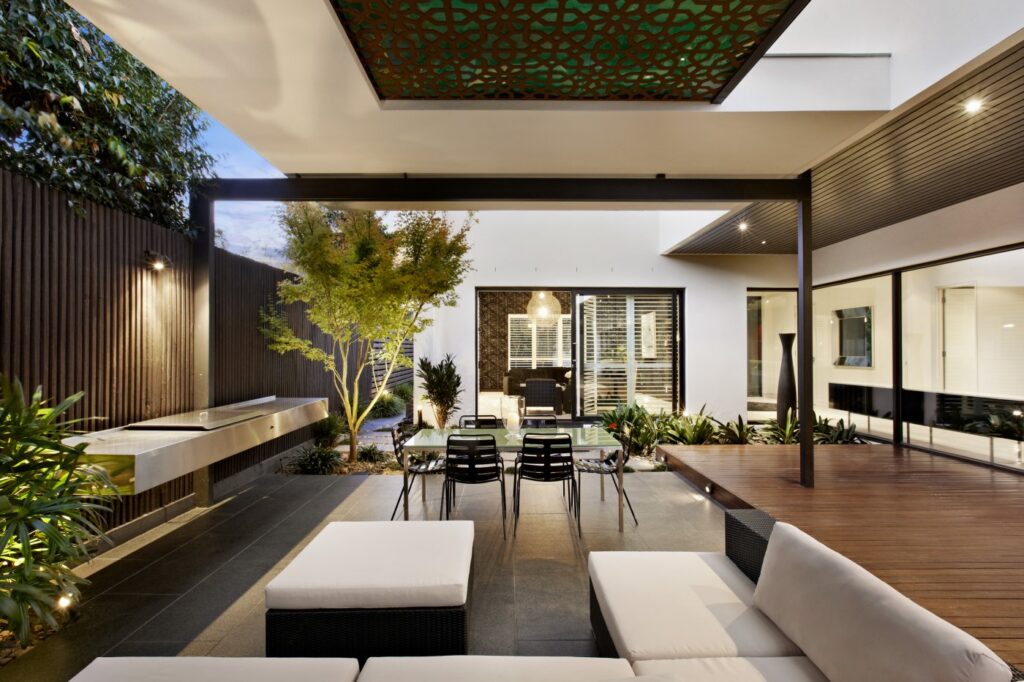 3. Floor Planning
When we talk about luxury, then space should not be a problem at all. The luxurious houses should be spacious. These properties must have spacious rooms with a wide viewing area with wide balcony lawns. The floor plans of luxurious homes are designed to keep your house functional and aesthetically beautiful. In addition to this, the floor plans are carefully crafted to give a modern look to your house. If you are looking for 4BHK luxurious apartments, then we recommend you take a look at the Medallion Mohali 4Bhk luxurious apartments.
4. Modern and Spacious Kitchen
The kitchen is the most functional room of the house. The builders keep this thing in mind and design a spacious kitchen in a luxurious house. The big kitchen with top-notch appliances will make your luxurious home complete. Before investing in a luxurious home, you should consider paying attention to the appliances in the kitchen and its architecture as well. In addition to this, you should consider paying attention to washers, faucets, island sinks, lighting fixtures, etc.
5. Amazing View From Property
There could be nothing better than spending beautiful evenings at your home while enjoying the peaceful environments. The luxurious apartments are constructed in a beautiful location and they are constructed in such a way that the residents of the house can enjoy the amazing view from the property. The beautiful and spacious balconies are designed in luxurious houses so that you can sit there and take in the fresh air. Also, you can gaze at the skyline during the night and you can calm your mind by watching the beautiful view from your house.
6. Smart Features
You may not find the smart features in all luxury houses. Nowadays, you may find smart features in almost all luxury houses. For instance, modern security systems, smart lighting fixtures, curtains operated by sunlight, smart air conditioning units, and many more. The smart home features vary from one luxury house to another.
7. Lavish Amenities
The luxury home is not complete without lavish amenities. The main objective of building luxurious houses is to provide charming and amazing life to people. Therefore, we recommend you to check the luxurious amenities available in the homes. Most luxurious houses include a gym facility, mini theatre, walking tracks, a safe playing zone for children, green parks, and many more just like the Medallion Mohali amenities. 
Wrap Up
People who are searching for luxurious houses should look for the features that are described above. Most people end up paying high to spacious homes which are not luxurious. Just spacious rooms do not define the home as luxurious. There are various other features that are required to make a home look luxurious.