For a player who is playing Dungeons and Dragons for the first time, it can be very intimidating and confusing. Why? Well, there is a lot of things that you need to learn and have. There the people willing to pay, the books, the complicated rulesets, and more. However, no matter what type of RPG player you are, you can't forget one thing, i.e., unique gaming dice.
Now, when it comes to the best unique dice sets and games, such as Dungeons and Dragons, even that it can be very confusing. Whether you are just getting into the game or looking for a perfect gift for your friends, getting the best dice set will matter. So, how do pick the right one? Don't worry at all and keep reading to get some ideas.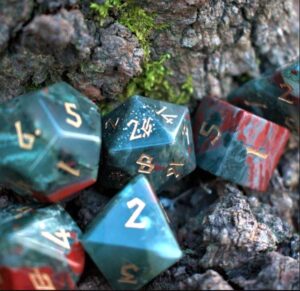 There are different types of dice sets. In Dungeons and Dragons, you will find seven different types. Let's talk about them in detail.
The D4
The four-sided unique dice sets look like a pyramid. These dice are very useful for low damage attacks and spells. Besides, you can use them for a particular probability check and more. However, while using it, be careful with these. These are available in both wooden and metal options.
The D6
You all have seen the regular dice with six sides. With a cubic shape, they come with pipes. You can use them for different types of board games. The D6 has some differences as most of them come with numbers, without any pipes. In the D&D game, the D6 can be used for many standard spells and attacks.
The D8
The dice look like two pyramids with one common base. In the D&D game, you can use them for weapons, for example, Maces. For a better level of durability and gameplay experience, you can go for metal dice. Find the best dice store and place your order now.
The D10
These dice are very crucial, and some tabletop games only use the D10 dice. With these dice, you can do anything. For example, choosing the character in the middle of the combat or utilizing the D10 to choose fate. There is one important thing to know that a player can use the D10 to determine the fate or to roll on a percentile scale.
The D12
The D12 dice come with a three-dimensional shape with twelve bases. Just like the D8 dice, the D12 can be utilized for different arcane events. Besides, these can be very useful in spells and with some exotic weapons. In the D & D's fifth edition, some horrifying weapons, such as great axes, use such high rolling dice. If you want to increase your winning chances, then you should never like to play the game without the D12.
These are some of the major gaming dice that you should buy when it comes to playing D&D. So, don't think much and find the best online dice store now and grab them all.